Summer means no school, picnicking outside and playing in a cool, refreshing pool.  It's all about having fun with family and friends.   You will need summer party essentials for pool parties, picnics and more.    No matter what you like to do during summer, the following products will help to make summer time your favorite time.
SUMMER PARTY ESSENTIALS
Whether you go swimming in your backyard or hang out at a public pool, keeping cool at the pool is always a top priority. These fun floats are sure to be a hit.  You'll find a ton of other fun floats and pool products to "make a splash" and turn pool time into party time.
1. Giant Flip Flop Float
Don't let this summer be a "flop".  This giant jumbo flip flop pool float will turn heads and stop people in their tracks with how cool it is.


2. Star Trek Captain's Chair Float
Looking for something more out of this world?  This captain's chair float from Star Trek is a sure fire hit for any sci-fi fan.
3. Giant Strawberry Donut Pool Toy
If you've got a sweet tooth, this giant pink strawberry donut is the perfect option for you.  Make summer a bit sweeter when floating on your favorite treat.
4. Giant Ice Cream Sandwich Pool Float
One of the most classic summer ice cream treats is the sandwich.  Keep cool in the pool while dreaming of a snack…and then go enjoy one.  It's the best of both worlds when you get to sleep and tan on your favorite treat, then take a break from relaxing to eat.
5. Giant Pool Pong Float Game
It's a float, no it's a game, no it's a combo.  Perfect for a pool party, a competition or just floating in the water.  This interactive pool float means a lot of fun for people of all ages.

6. Personalized Cooler Tub
Having a bigger event?  This personalized cooler tub is the perfect party supply to keep everything from the kids soda to a delicious white wine cool.  Large enough for a party and stylish enough to make everyone envious, its sure to be the "cool-est" accessory at the event.

7. Personalized Beach Sunglasses
There's nothing worse than forgetting sunglasses on a sunny beach day.  It can ruin your volleyball game, make laying in the sun a challenge and your eyes may hurt after a while.  That's why giving everyone a pair of personalized sunglasses  is an amazing way to welcome them to your event.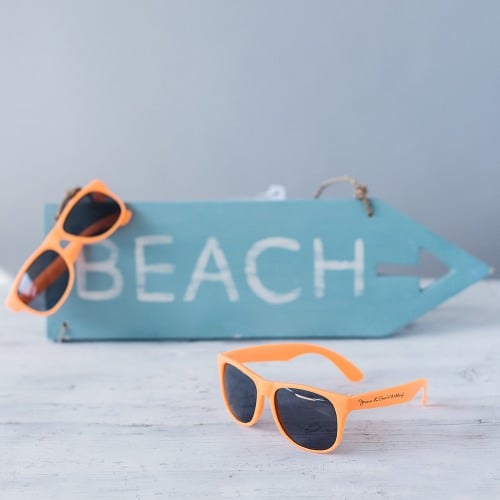 8. Flip Flop Shaped Chocolate Covered Oreos
Flip Flop Chocolate Covered Oreo  are the perfect way to perk up your guests with some chocolate fun. That's why it's important to have water and snacks ready for your hungry guests.  These chocolate covered Oreos are shaped like flip flops to match the beach theme and will help keep everyones's energy up.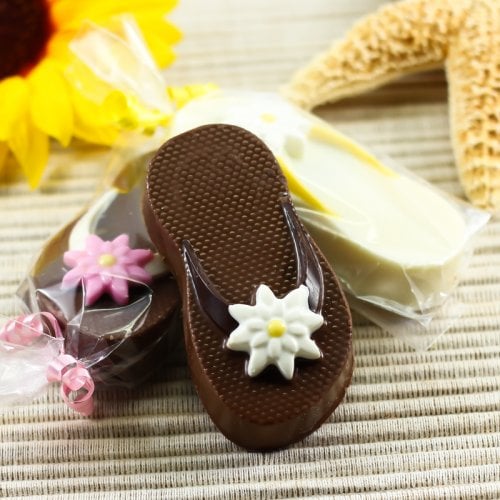 9. Personalized Sunscreen Favors
Personalized Sunscreen Favors at your summer party is a cute way to show you are about your guests skin.  The only thing worse than forgetting sunglasses is getting sunburned.  These personalized mini sunscreen favors are the perfect way to make sure everyone has a first line of defense from getting "burned".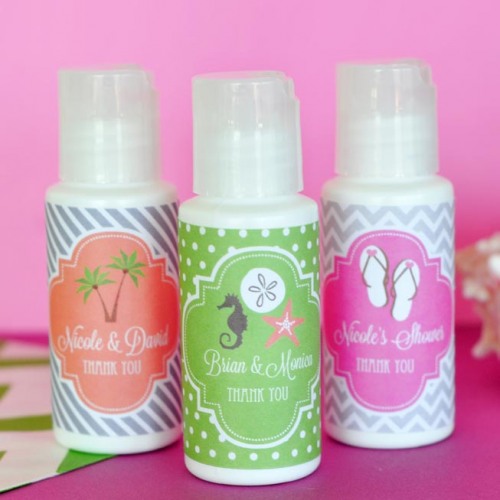 Disclaimer: This post contains links that if you click on and purchases I may get paid a percentage. Please not that I only promote products and services I fell are right for Local Mom Scoop followers. All of my opinions are always 100% my own.