Who is ready for a beach vacation?
It's been a disastrously cold winter for most of the United States. I'm blessed to be a South Florida mom living in a tropical climate all year around.
So at this point in the year, you must be ready to plan a beach vacation.
You're probably wondering what things to pack for your beach vacation. If you're heading to the Florida Keys or the West Coast of Florida, these are the perfect essentials for your beach vacation.
Here are a few things you should consider when packing for the beach:
Sunscreen
Sunglasses
Bathing suit
Cover-ups
A good book
Sandals
Hat
Umbrellas
1. Suncreen
As a melanoma survivor at 21, I've been wearing sunscreen all my life. You should not forget this for your beach vacation. It's something you should wear every day but especially on your beach vacation. The sun is hotter than you know and you can easily get burned in 15 minutes. These sunscreens will help prevent skin cancer.
Here are a few sunscreens I use and so does my family.
COOLA Organic Sunscreen & Sunblock Body Lotion, Skin Care for Daily Protection, Broad Spectrum SPF 30, Reef Safe, 5 Fl Oz
I worked with Coola a few years ago when I traveled to Beaches Turks and Caicos Sandals Resort Conference for #BeachesMoms. I love the Coola self-tanner which comes with a hand mitt to help exfoliate first and then smooth. The Coola Organic Sunless tanner serum Selftanner for the face is perfect for that sun-kissed glow.
Colorescience Sunforgettable Brush on Sunscreen SPF 50 Deep 0.21 oz.
This product was gifted to me and it's perfect if your going from the pool to the beach and back to the pool with your friends.
BUY NOW AT WALMART.COM – $37.99
Blue Lizard Australian Sunscreen – Sensitive Skin, SPF 30+, 5 Oz
When I'm boogie boarding with the kids and expect to be in the water all day, I lather on the Blue Lizard. The Smart Bottle turns blue when the UV Rays are strong.
BUY NOW AT WALMART.COM – $9.99
---
2. SUNGLASSES
Protecting your eyes is so important. I just learned you can get Melanoma in your eyes. A great pair of sunglasses is a must to complete your beach vacation look. Check out these two different looks or must-haves.
Ray-ban Blue Metal Sunglasses for Women
I own a pair of these Ray-Ban Blue metal sunglasses. They seem to go with my wardrobe of navy, pink and black. And they are just cool looking.
WOMEN'S QUAY AUSTRALIA AFTER HOURS 50MM SQUARE
These stylish tortoiseshell sunglasses are trending. So when you're chasing the kids in your shorts and rashguard, you'll still be summer trending.
---
3. Swimsuit
I've seen one too many bare buns here in South Florida. What mom doesn't want a little bit of coverage while they are playing with their kids, but still want to look stylish.
Women's Sea Level Spliced Multi-Fit One-Piece Swimsuit
It's like the Little Black Dress! Everyone should have a one-piece black bathing suit to pack for a beach vacation.
You can wear this to the pool with a great layered necklace and straw hat. Or be prepared to be up and down in and out of your beach chair 20 times parenting and still feel comfortable.
Buy Now At Nordstrom – $119.95
Women's Plus Size Off Shoulder Classic One Piece Swimsuit
This striped swimsuit is perfect to draw the eyes away from the belly and up towards the classic off the shoulder.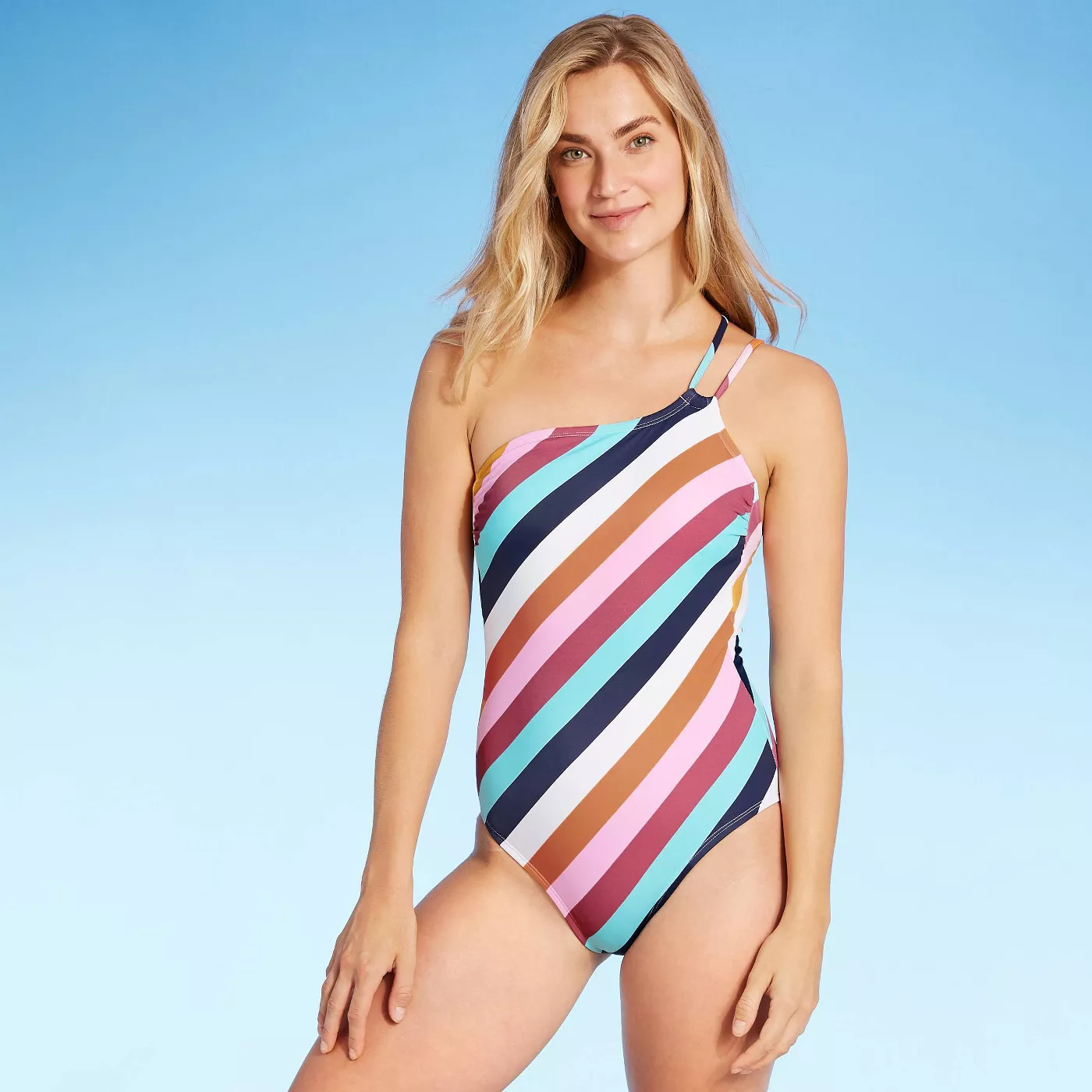 ---
4. Cover-ups
On one of my vacations, I remember a family being asked to leave the restaurant because their daughter was not wearing a cover-up. It's always a good idea to pack a few if you don't have access to a washer or dryer.
WOMEN'S CROCHET INSERT COVER UP DRESS
Cover-ups are a must. You never know when you are at a beach resort and it's required or when your kids want you to stop at 7-11 for Slurpees on the way home.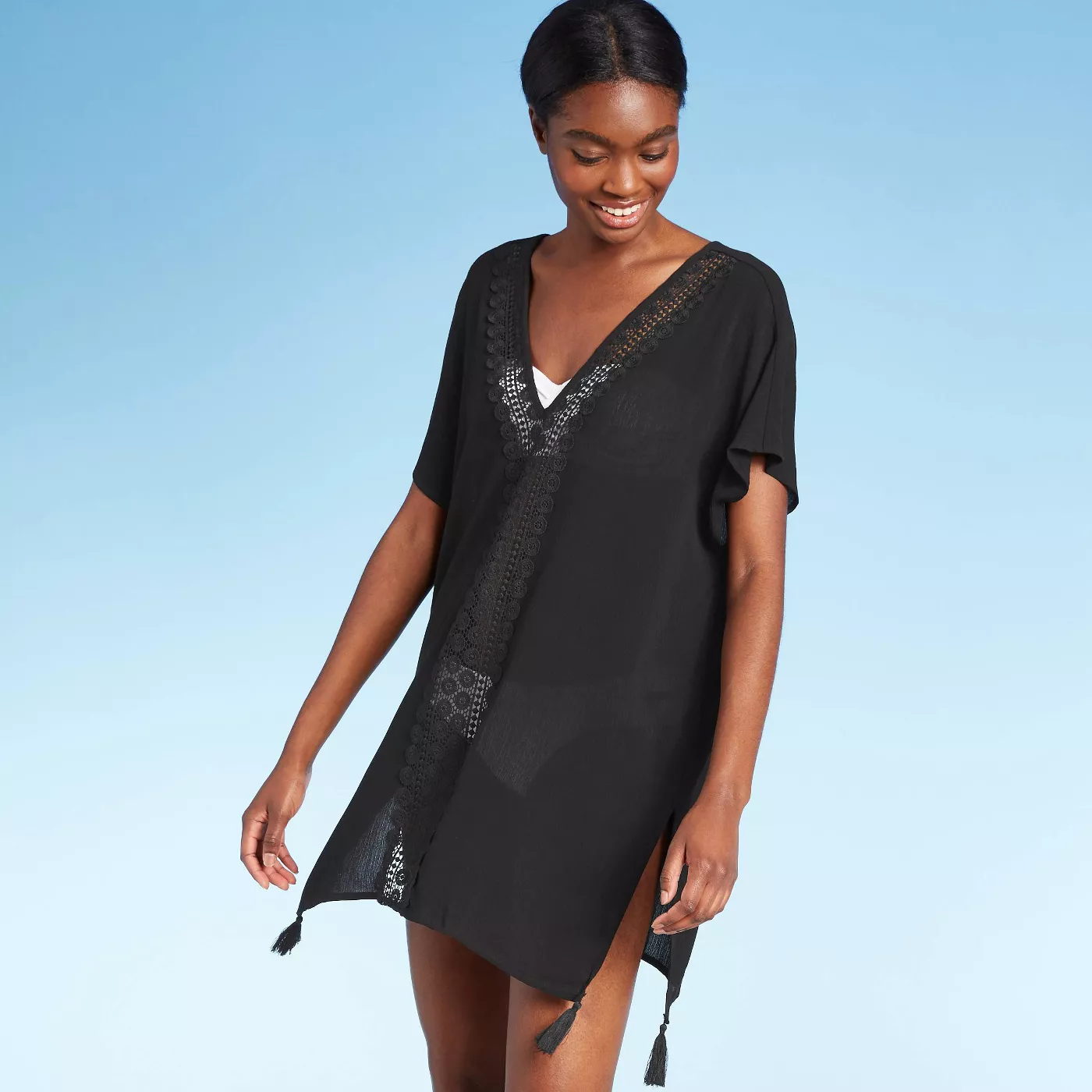 Women's Vineyard Vines Burnout Vineyard Shift Dress
This shift dress can also function as a cover-up as well. It's a classic navy that will go with anything. I'm loving the tassels as well.
5. A Good Book
I'll be honest, I'm not a reader. But when it comes to supporting my female novelist friends, I knew I had to do it. They are great beach reads too!
Your Fully Charged Life – by Meaghan B Murphy (Hardcover)
I just bought this book from Meaghan B. Murphy who is the Editor of Woman's Day magazine. I had the pleasure of bonding with her in the bathroom in Turks and Caicos at the Beaches Sandal Resort. We've been IG friends ever since. Her IG stories will get you motivated and so will her new book.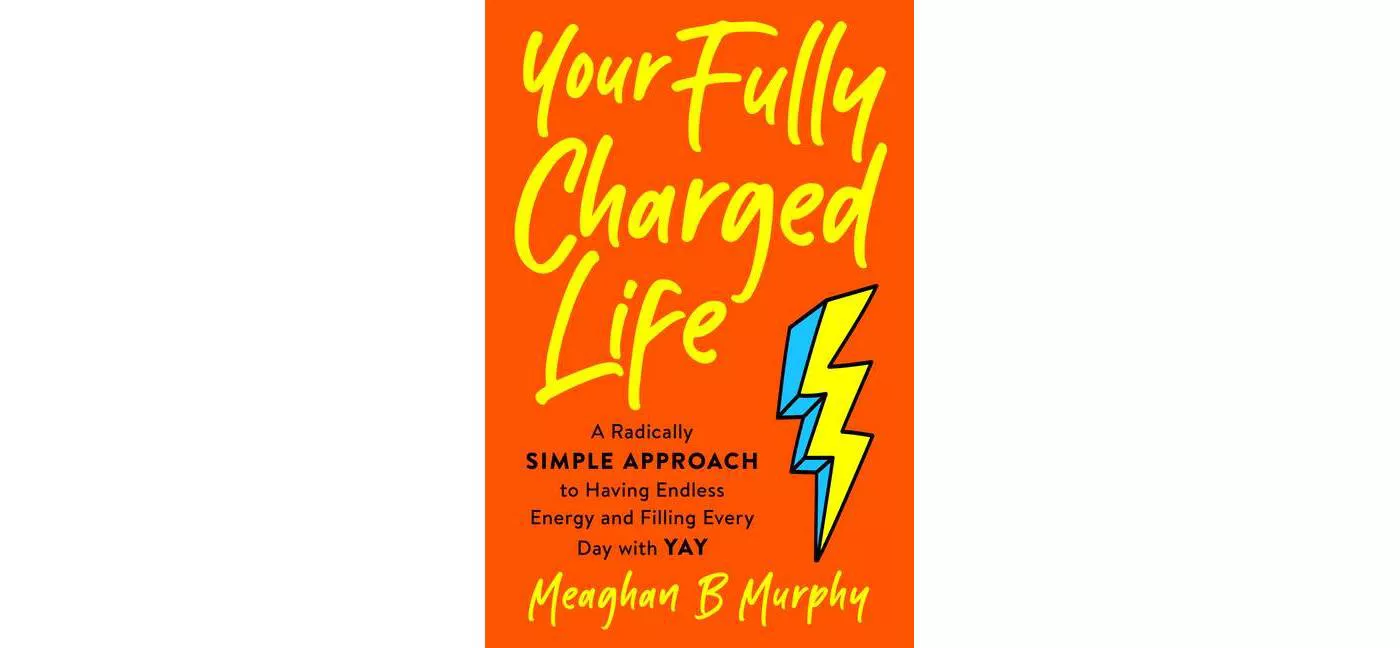 BUY NOW AT TARGET.COM – $21.51
Jesse's Girl by Tara September
I love when I see my blogger friends branch out and become novelist. Here is the perfect beach read from my friend and Florida mom Tara.
---
6. Sandals
When you live in South Florida, you barely see a closed-toed shoe unless it's a sneaker. We live in sandals and flip-flops here. Wear them with dresses, shorts and your swimsuit.
Valentino Women's Valentino Garavani Rockstud Bow Jelly Thong Sandals
Everyone has these in Boca Raton during the summer. They are expensive for a rubber flip flop but that's because it's Valentino. Just check out my knock-off below if you don't care who it's by.
BUY NOW AT SAKS FIFTH AVENUE – $425
Wild Diva Women's Flip-Flops BLACK – Black & Goldtone Studded Bow Joanie Flip-Flop
This Valentino knock-off will have people thinking you wearing the real thing.
---
7. Hat
Protect that gorgeous skin of yours with a hat. You just can't go to the beach without one.
Roxy Quiksilver Women's Incognito Adjustable Trucker Hat
Who doesn't love a cute trucker hat for the beach? Especially if it's a breezy day. Sometimes a straw hat just won't work.
Fancet Big Head Womens Packable Wide Brim Ribbon Band Straw Fedora Derby Panama Beach Sun Hat White
Amazon saved me with this straw hat. I've taken it on beach vacations and cruises. You can't beat the price. I keep it by the front door so I grab and go for my daily walks with the kids.
---
8. Beach Umbrellas
You'll be begging for shade after a few minutes in the sun. Always bring a beach umbrella or two.
IMPACT CANOPY 8-FOOT BEACH UMBRELLA, UV PROTECTED
There never seems to be enough coverage for everyone on the beach. I like to bring an extra umbrella for the kids to sit under while creating sandcastles.
MAINSTAY SAND GRABBER & BEACH UMBRELLA ANCHOR
It's the worst when you look over and see someone chasing their umbrella down the beach. For years, I've been bringing an umbrella anchor. This is so I can relax and not worry about our beach umbrella taking flight.
What will you pack?